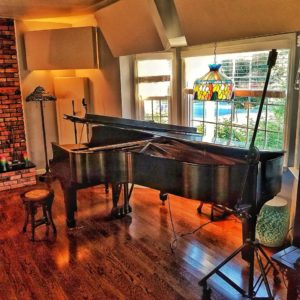 Long Island Steinway B Piano Hourly Rate:
Vocals , Instrumental or Poetry tracking. – $80 per Hour
Audiobooks editing and Tracking $80 per hour  1st Consultation rate in initial project- free . Information and setting up Audible or Findaway Voices is a Fixed Rate as well(Due to time)
Piano Tracking – All piano sessions are a start fixed rate of 2 hour minimum studio time fee of $280. This fee covers the $120 Piano tuning (mandatory) and $160 for first two hours of piano tracking.  
Question: Why are your fees starting at $280.00
Answer:  A piano technician must be preset to prepare and tune the piano for each session. This requires additional time before the artist records. This cost covers the piano tuners expenses not the studios.
Question:  Do you record video?
Answer: Yes, I sync via Pro Tool and Video Software
Your Session Data:  The studio can transfer to preferred thumb key or hard drive or to dropbox /google drive .  When the session is done you the client are responsible for your own data that has been process and recorded! Our studio is not required to hold on to your recorded session/data. This is part of the process and studio time. Please factor in 20-40 additional minutes outside of tracking for piano sessions  editing and data transfer
646.267.4127
mantrarecordingstudio@gmail.com
长岛施坦威 B 钢琴小时价格:所有课程起价为 280 美元,其中包括 120 美元的钢琴调音费(强制性)和录音或编辑前两小时 160 美元的钢琴录音 每小时 80 美元,每增加一小时 70 美元声乐或其他乐器长岛或纽约的音乐(钢琴除外)混合曲目
Zhǎngdǎo shī tǎn wēi B gāngqín xiǎoshí jiàgé: Suǒyǒu kèchéng qǐjià wèi 280 měiyuán, qízhōng bāokuò 120 měiyuán de gāngqín diào yīn fèi (qiángzhì xìng) hé lùyīn huò biānjí qián liǎng xiǎoshí 160 měiyuán de gāngqín lùyīn měi xiǎoshí 80 měiyuán, měi zēngjiā yī xiǎoshí 70 měiyuán shēngyuè huò qítā yuèqì zhǎngdǎo huò niǔyuē de yīnyuè (gāngqín chúwài) hùnhé qǔmù