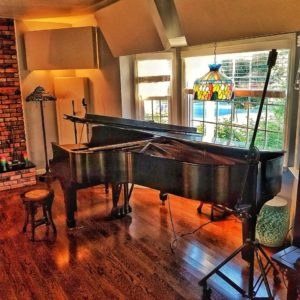 Long Island Steinway B Piano Hourly Rate:
All piano sessions are a flat 2 hour minimum studio time fee of $240. This fee covers the $120 Piano tuning (mandatory) and $120 for first two hours of piano tracking.
$60 per hour Vocals tracking or other Instrumental tracking.

$60 per hour

 editing

Please factor in 20-40 additional minutes outside of tracking for piano sessions  editing and data transfer
Question: Why are your fees starting at $240.00
Answer:  A piano technician must be preset to fine tune the piano for each session. This requires additional time before the artist records. This cost covers the piano tuners expenses.
Question:  Do you record video?
Answer: Yes, I sync via Pro Tool to video via a program called Plural Eyes.
Data: I can transfer to dropbox, google drive or thumb key or hard drive.  When the session is done you are responsable for your own data that you recorded. Mantrastudio is not require to hold you recorded session
Chris
646.267.4127
mantrarecordingstudio@gmail.com
长岛施坦威B钢琴小时价格:
所有会议开始于240美元,其中包括120美元的钢琴调音费(强制性)和120美元钢琴录音的前两个小时
录制或编辑每增加一小时50美元
每小时50美元声乐或其他器乐(钢琴除外)在LI或NYC混合跟踪